You know that moment between sleep and waking? I read somewhere that the first thing that comes into your head is what you desire or fear the most. I don't know if that's fully right though because for years when I opened my eyes I used to think of Mark.
I'm JP Whelan and I said that, the thing about Mark, to my shrink. He's always trying to get me to talk about what happened all those years ago, when we were kids.
I wasn't always seeing a shrink, I wasn't even always JP – I used to be John-Paul. Here's where I'm supposed to tell you about all that, about my life with Katie and Abbey in London. Or, before then, back in Dublin, with Dad, listening to The Beatles and how that was the only time I really felt safe.
But then I'd have to tell you about my brother Dessie and what happened with Mark. And I don't want to get into that story right now.
See, it doesn't all fit into some neat little box – my story. I wish it did. So if you really want to know the truth, you're going to have to find out for yourself, because even now I'm not sure what the truth is.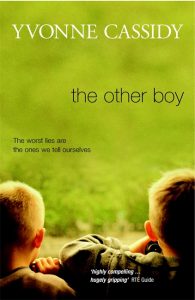 "Intelligent and tautly written…as a debut novel, this cannot fail to impress."

– The Irish Independent
"Cassidy ratchets up the tension as Dessie tightens his grip on JP's life, all the while offering flashback snippets of what happened back in Dublin when the boys were brothers. Fans of Tana French will find much to admire here." – The Irish Times
"A highly compelling tale…littered with bitterness, revenge, lies and a hugely gripping plot that takes us from 80s Ireland to contemporary London where the story of the Whelan brothers reaches a shocking climax. A real page turner." – RTE Guide (Ireland's biggest selling magazine)