I'm crying again, Mum. I'm crying because I don't know how many letters I have to write to say goodbye to you. More than anything, I wish I knew.
Seventeen year old Rhea Farrell carries the scars of a childhood accident where she lost her arm. But Rhea also carries scars that aren't so visible – the loss of a mother she hardly remembers, the impact of her father's drinking and her confusion and pain around accepting her sexuality.
When Rhea finds herself alone and homeless on the streets of New York she turns to the person she always wished she could turn to – her mother. And just like she used to do as a little girl, she starts to write her letters – to tell her the things she can't tell anyone else, to share her fears, to ask for help.
Rhea's journey brings her deeper into her mother's past where she uncovers some buried family secrets. And as she finds out more about the woman her mother truly was, Rhea discovers too, just what kind of woman she wants to be. And that sometimes, it takes longer than you think to say goodbye…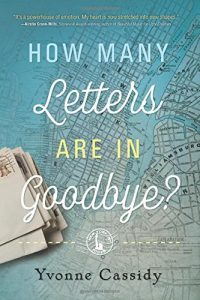 2017 Rainbow List Top 10 Book

– American Library Association
"A very well constructed story of tragic loss, self-discovery, and love." – Sunday Independent
"This book will make readers confront their own senses of identity." – Kirkus Reviews
"It's a powerhouse of emotion. My heart is now stretched into new shapes." – Kirstin Cronn-Mills, Stonewall Award-winning author of Beautiful Music for Ugly Children
"A heartbreaking story about the challenges of trusting, healing, and saying goodbye." – School Library Journal